2020 Players to Watch: No. 1, Kevin Dougherty
December 31, 2019
By Kevin Prise, PGATOUR.COM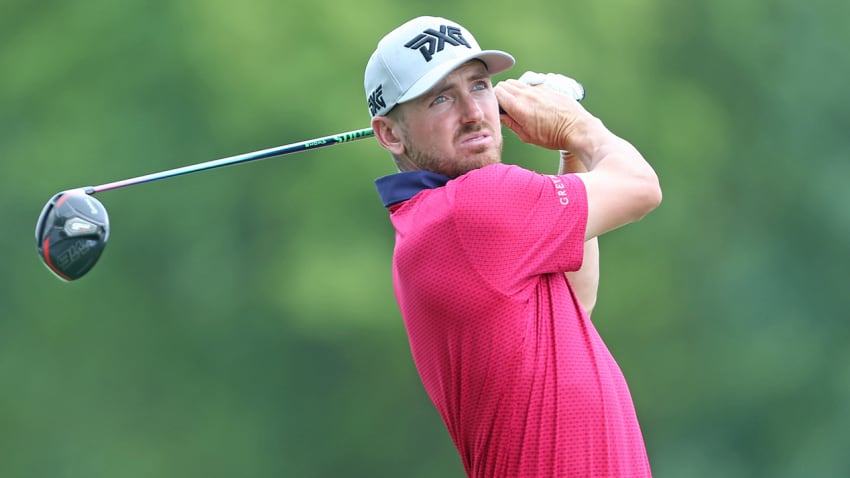 In each of the past two seasons, Kevin Dougherty has narrowly missed earning a PGA TOUR card. Can he take the next step? (Matt Sullivan/Getty Images)
Kevin Dougherty had been there before.
On the final hole of the 2018 Korn Ferry Tour Regular Season-ending WinCo Foods Portland Open presented by Kraft-Heinz, Dougherty had a 20-foot birdie attempt from the front of the green. If he holed it, he would finish inside The 25 and secure his first PGA TOUR card.
Dougherty chose to chip. The ball crept toward the hole before turning and stopping an inch left. He fell to his knees in agony.
This shot from Kevin Dougherty for a @PGATOUR card.

An absolute gut-wrenching result.

Kevin Dougherty will continue the quest in the #WebTour finals. pic.twitter.com/J4r0GddEGT

— Korn Ferry Tour (@KornFerryTour) August 20, 2018
This past season, Dougherty showed no signs of lag from that near-miss. The Oklahoma State alum recorded back-to-back top-three finishes at the end of June, eventually finishing No. 33 on the Regular Season Points List.
Dougherty, a childhood friend of acclaimed TOUR pro Rickie Fowler, was a popular pick to break through and earn his TOUR card via the 2019 Korn Ferry Tour Finals. Throughout the season, he had spoken of the motivation from the 72nd hole in Portland, and his inspiring play backed it up.
Wow. Just wow.@OSUCowboyGolf alum @Kev_Dougherty holed out for eagle on the par-4 fifth hole Sunday @WebTourSavannah @LandingsClub …

FROM THE WATER! #LiveUnderPar pic.twitter.com/B0egEDVSw2

— Korn Ferry Tour (@KornFerryTour) March 31, 2019
Entering the final round of the Finals-opening Nationwide Children's Hospital Championship, Dougherty was in 11th place. With a solid Sunday at the Ohio State University Golf Club (Scarlet), he could secure a place inside The Finals 25.
He shot 79 and finished T62.
True to character, the 28-year-old rebounded with a T11 at the following week's Albertsons Boise Open presented by Kraft Nabisco. He entered the season-ending Korn Ferry Tour Championship presented by United Leasing & Finance at No. 21 on The Finals 25.
Making the cut at Victoria National GC would give Dougherty a strong chance at cementing that elusive TOUR card via The Finals 25.
Standing at the 18th tee during the second round, Dougherty stood 1-under for the week. Throughout the day, the cut line hovered between even-par and 1-under, but a par was surely safe.
An errant drive led to a double bogey, and Dougherty posted 1-over through 36 holes.
The cut line eventually settled at even-par.
"Right now, it hurts a lot."

One year removed from heartbreak in Portland, Kevin Dougherty once again experienced heartbreak @TourChampULF.

He double bogeyed No. 18 to miss the cut by one.

A @PGATOUR card will have to wait another year. pic.twitter.com/9zxIwFJgEi

— Korn Ferry Tour (@KornFerryTour) August 31, 2019
Through a string of dramatic near-misses, Dougherty has maintained an aura of positivity, continuing to work hard at his craft and thoughtfully discussing his situation with the media.
Even in the aftermath of his ill-timed double bogey at Victoria National, Dougherty sat with Golf Channel's Chantel McCabe to convey his emotions and reflect on how close he had been, once again.
"I never wanted to feel Portland again," Dougherty said at the time. "And I'm kind of feeling that right now.
"Right now, it hurts a lot. I'm frustrated and angry, and all this stuff, but it's a long journey. It's just going to make me better, and shows me that I've got to get better. I don't like being on the bubble. I shouldn't be this close, and I've just got to get better."
After four months of reflection and continued work at his craft, Dougherty enters 2020 with plenty to prove, and the No. 1 spot on our Players to Watch countdown.