Barjon wins second title of the season at Osprey Valley Open
July 14, 2019
By Adam Stanley, PGATOUR.COM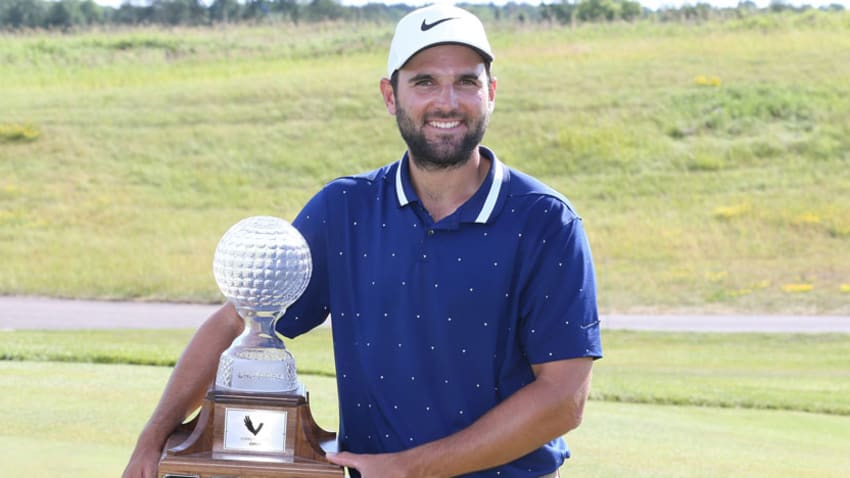 Paul Barjon carded a final-round 67 to clinch the win. (Claus Anderson/Mackenzie Tour)
CALENDON, Ont. – Paul Barjon proved Sunday why he's been so tough to beat this year.
With his second victory of the season, Barjon sits on top of the Order of Merit with a focus on the Korn Ferry Tour that's as sharp as his play was this week.
The native of Dumbea, New Caledonia shot a 5-under-par 67 Sunday at the Osprey Valley Open presented by Votorantim Cimentos – CBM Aggregates to win by three shots over Canadian Taylor Pendrith.
"I knew 25-under would have a pretty good chance out here and it worked out," said Barjon. "My putting was good, everything, overall, was pretty solid. Nothing incredible, but nothing was poor either … just made the putts towards the end at the right moments."
Barjon and Pendrith traded birdies on the par-5 No. 1 before Barjon flinched first, making a bogey on the par-3 No. 7. He bounced back with an eagle on the par-5 No. 8 and added another birdie on the par-4 No. 9. From there, Pendrith had to play catch up, despite being buoyed by the near-hometown crowds Sunday.
"It was awesome … all the support out here. A lot of my buddies, family and friends and a lot of local support too," said Pendrith, who is from Richmond Hill, Ont., less than an hour from TPC Toronto at Osprey Valley. "It was definitely a fun week and I played pretty good. I have to be happy."
It wasn't good enough to top Barjon this week, however. Barjon made three birdies in the last eight holes, combined with a handful of clutch par saves.
Pendrith made two birdies on Nos. 13 and 15 but made a costly bogey on the par-4 No. 17 after hitting his tee shot into the trees on the right side of the fairway. That was the difference, in the end.
"Honestly I played really well, I hit the ball great. I didn't make a bogey until No. 17, which was kind of unfortunate, but it's a hard hole. I thought I could miss the tree with my back swing but I kind of got it and didn't hit it how I planned to and made an unfortunate bogey," said Pendrith. "Overall I played really well, so I have to be happy with the result. It was pretty fun."
Barjon had a two-shot lead heading into Sunday but he wasn't resting on his laurels. He said he had some tension Saturday night and had trouble sleeping. He alluded to Greyson Sigg, who shot 59 in the final round of the GolfBC Championship as an example of how anyone can have a chance to win on the Mackenzie Tour.
"It was a little stressful, but you're ahead. But I felt good. It was different than chasing someone," said Barjon, who heaped the praise on Pendrith after Sunday at TPC Toronto at Osprey Valley turned into a match-play scenario between the two.
"I've never played with him before but people told me 'oh yeah, he hits it a mile.' He does hit it far and he's got great hands around the green. I was playing behind him yesterday and I was like, 'this guy is scary. He can make a lot of birdies. But it was fun. We had a good match."
With the runner-up finish, Taylor Pendrith wins his second Canada Life Canadian Player of the Week Award of the season.
Next week the Mackenzie Tour heads to Halifax, Nova Scotia for the inaugural HFX Pro-Am presented by Steele Jaguar.
KEY INFORMATION
This is the first time in the PGA TOUR-era of the Mackenzie Tour that there have been two players with two victories in the first half of the season.
Jake Knapp (69-65-66-67) finished third, but was bumped to second on the money list by Paul Barjon. Barjon joined Knapp as golfers with two victories in 2019.
Barjon joins Tyler McCumber and Dan McCarthy as the only two golfers in the PGA TOUR-era of the Mackenzie Tour with three or more total victories (Barjon also won the 2016 Canada Life Championship along with his two wins in 2019).
Monday Qualifier Ashton Van Horne, playing his first Mackenzie Tour event of the season, finished T11 and has earned status for the remainder of 2019.
Van Horne was tied with Carr Vernon for the round of the day Sunday, a 7-under-par 65.
Golf Canada National Team member Joey Savoie finished T30, the lowest finish by an amateur at any Mackenzie Tour event so far this season.
After a 3-under-par 69 on Sunday, David Pastore moved to 20-under, and finished in solo fourth – his best finish of the season.
Making his first Mackenzie Tour season start since 2016 Jared Wolfe finished T5, and will play the rest of the Mackenzie Tour season. Wolfe is second on the 2019 PGA TOUR Latinoamerica Order of Merit after a victory in March and two other top-10 finishes.
QUOTABLE
"We're halfway through and I have a second and two wins. Obviously I'm very happy with the way I've played. You've got so many tournaments left, Jake (Knapp) might win two more and that's hard to catch … but then anybody could win two more. It's halfway through. We've played nine holes and I've shot a pretty good score on the first nine." – Paul Barjon
"There was a couple times in the round when the momentum was going my way and he was grinding for pars. He made a lot of nice 5-8 footers for par so he played awesome. He hit the ball well and was just very steady all day." – Taylor Pendrith
"I've been playing really well for the last year I'd say, and it's only a matter of time before I get my chance. I played great this week and I had a chance on Sunday with a few holes left, and that's all you can ask for. Hopefully I'll have a few more of those going forward." – Taylor Pendrith
"I figured it was the two of us up top, but I didn't know until 17 and then I needed an eagle, and he needed to make par, but he hit a great shot in there to 15-20 feet. It was going to be difficult. But I hit a good putt, it had a chance to go in but hit the lip. I kind of thought it was just me and him at the top, but it was fun playing with Paul." – Taylor Pendrith
"This week just reminded me that you don't have to have your best game to play really well. Last week on the Korn Ferry Tour I was playing really well but I didn't make it to the weekend, the putts just didn't go in. This week I felt like I was playing OK, I had a lot of good shots, good putts, it reminded me I don't have to have my best game I just have to have a good attitude and expect good things to happen. I'll go to Halifax and see if we can make a run." – Jared Wolfe
"The whole week was great. I played well at times, and other times I didn't but I got lucky with chip-ins and bounces and things like that. I started (today) with a double bogey and that put me in a bad mood but I was acting like a child for a few holes. Then things turned around, I started making some birdies. I made another bogey on the back nine and was at 1-over. I thought, 'let's try to have some fun coming in. It's not going to do me any good staying mad the rest of the day' coincidently I made eagle, birdie, birdie, then made a par, then birdie-birdie." – Jared Wolfe
"It was kind of an effortless round today, everything was working well, hitting a lot of greens, maybe the most comfortable I've been all week, so it was good to find a groove and stay in it the whole round." – Elliott Paylor
"I've been trying to stay as patient as possible. I've been shooting around even par but I thought it was trending last week with some decent rounds and then to make only one bogy in the first round I knew it was close and I continued being comfortable the whole week." – Elliott Paylor
FINAL-ROUND WEATHER: Sunny. High of 28. Wind up to 14 km/h