Cold-weather creativity fuels VanDerLaan in pursuit of pro dreams
November 16, 2018
By Adam Stanley, PGATOUR.COM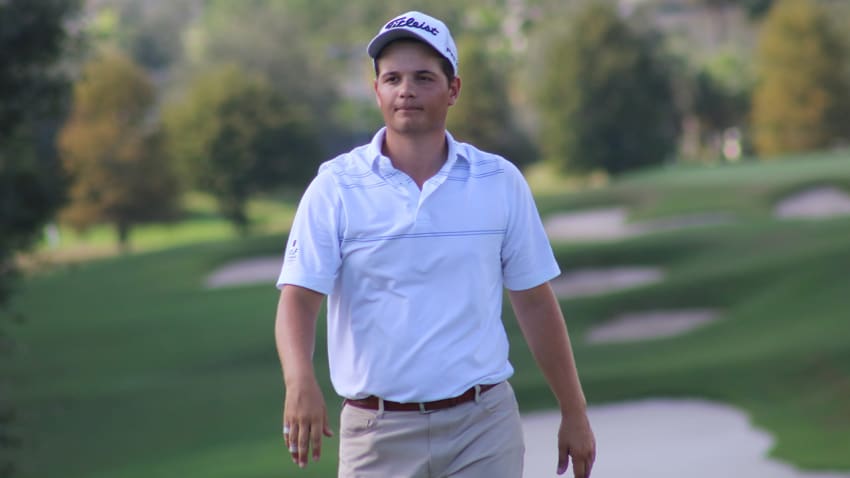 Reigning Division II Player of the Year John VanDerLaan secured 2019 Web.com Tour membership via Second Stage. (Kevin Prise/PGA TOUR)
Growing up in Connecticut, there weren't many opportunities for John VanDerLaan to practice or play for a good chunk of the year. Mother Nature flexed her muscles more often than not.
But VanDerLaan's grandfather took matters into his own hands, and in the basement of VanDerLaan's childhood home, a makeshift hitting bay was made. Now 22 and in the midst of prepping for Final Stage of Web.com Tour Q-School, VanDerLaan recalls fondly the time he and his younger brother – a senior at VanDerLaan's alma mater, Florida Southern – spent in the basement.
"We would swing in the basement as much as we could," says VanDerLaan. "We weren't going anywhere anyway because it was snowing … might as well go swing the club a few times."
VanDerLaan says his love for golf was started early. The basement setup was simple – just a net from the floor to the ceiling with a hitting bat and a bucket of balls (a putting course was also set up, with cups from the kitchen cabinets laid on carpet or hardwood as the usual aiming points). But during the blustery months in the northeastern United States, it kept VanDerLaan, as he explains it, on his grind.
"We were just swinging the golf club," he says with a small laugh, as he basks in the sunshine of Naples, Florida, where he's spending the winters these days. "And it was better than nothing."
VanDerLaan recalls growing up and loving golf. His dad, he says, played in a member-guest tournament in their native Connecticut when VanDerLaan was a two-year-old and after winning the tournament, he used a pro-shop credit to purchase his eldest son his first set of junior clubs.
They were brought home, and VanDerLaan says his parents remember him outside hitting the ball back-and-forth "for hours."
Although he played other sports growing up, VanDerLaan settled on golf at an early age and knew he wanted to escape the chilly north for the year-round golfing temperatures that Florida afforded.
Ironically enough, VanDerLaan knew two people from Connecticut who were both individual champions at Florida Southern. It was an easy decision, and VanDerLaan left school earlier this year as a decorated athlete. He added his name to the list of NCAA Division II individual champions, and he earned the 2018 Jack Nicklaus Award as Division II Player of the Year.
"Florida Southern presented me with an opportunity to play golf at a place where you win," he says. "Talking with people who had gone through it and with my parents, learning how to win was one of the most important things you can do. No matter how far you get, you're going to have to win if you want to be successful. I was fortunate at Florida Southern.
"I accomplished some pretty cool things and I wouldn't have traded my time there for anything."
John VanDerLaan (fourth from left) helped lead Florida Southern to the 2017 Division II men's golf championship title. (Courtesy of Florida Southern)
The cherry on top of a successful collegiate career came earlier this year. After being named the Nicklaus Award winner, he participated in a shootout with winners from other collegiate divisions and ended up on top. He earned a spot in the Barbasol Championship – the shootout was sponsored by the shaving company – where he made his TOUR debut this past summer.
Meeting Nicklaus, as well, was an eye-opening experience for VanDerLaan. It remains hard to put into words.
"He's arguably the greatest to ever play the game," says VanDerLaan. "To just be around him and talk to him for a few minutes is pretty incredible."
John VanDerLaan met with Jack Nicklaus at the 2018 Memorial Tournament presented by Nationwide. (Courtesy of Florida Southern)
VanDerLaan made the cut at the Barbasol Championship and cashed a check, but more than the money, he says the opportunity for growth and learning was invaluable.
"It helped me realize that I can play with them and I deserve to be there," he says. "I didn't just get there for no reason, I deserve to be playing with (guys on the PGA TOUR). Making the cut was a big part of that."
To stand on the driving range and hit balls next to guys like Davis Love III, FedExCup winner Billy Horschel, and Hunter Mahan was one of those opportunities VanDerLaan can't help but reminisce happily about.
"It was a really good experience for me to get to know what a whole week is like for those guys," he says. "To play well and play the weekend and get all that experience was definitely valuable for me going forward."
At Q-School's Second Stage in Brooksville, Florida (top-18 and ties advanced), VanDerLaan went into the final round at 9-under and thought 13-under had a chance to move on, while 14-under would get in for sure.
Although he got off to a good start, he made the turn at only 1-under for the day. He caught fire on the back nine, though, making a 20-foot birdie putt on the final hole of Second Stage to post 14-under total, which ended up being the number to move on.
With the closing birdie, VanDerLaan ended up knocking out his collegiate teammate John Coultas (who had won his First Stage site) by a shot.
There are no hard feelings between teammates, VanDerLaan says, and Coultas was just a victim of a lot of good players shooting good scores that week.
"He easily could have made it as well as I did, and it's unfortunate he missed by one shot," says VanDerLaan. "He's a great player. He won First Stage, so I'm sure he'll be out there before long."
It has been a long journey for VanDerLaan from hitting balls in his basement (something he can't even do anymore, since his family sold that house), but the proven winner is ready to take the next step to the Web.com Tour.
"There are guys who are really good players, and they turn professional and they think they need to change things because they're now professionals," he says. "I'm trying to do my best to stay with what works for me, and just keep moving forward."