Jay Haas surging during Charles Schwab Cup Playoffs
November 07, 2018
By Bob McClellan, PGATOUR.COM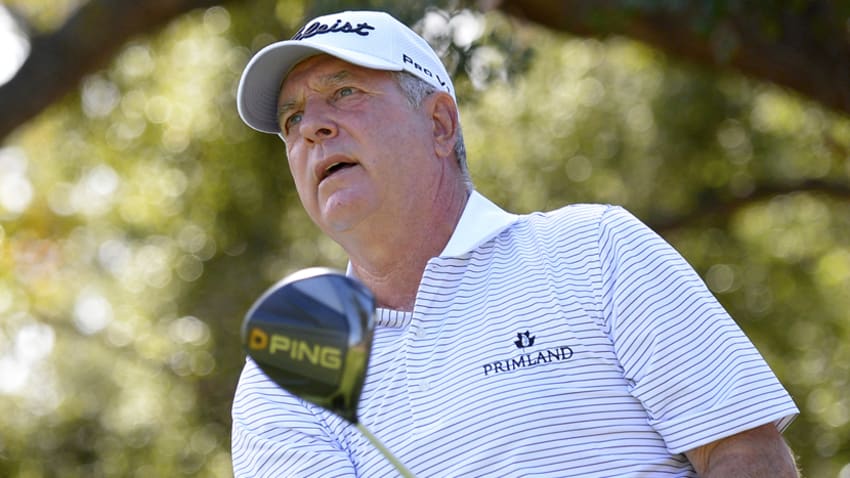 Jay Haas shouldn't be doing what he's doing.
He's 64. He ranks 56th in driving distance on PGA TOUR Champions, 48th in scoring, 47th in greens in regulation. His last four finishes before the start of this year's Charles Schwab Cup Playoffs were T50, T20, T56 and T65. The last time he had consecutive top 10s in individual events was in the Charles Schwab Cup Playoffs in 2016.
Maybe it's just something about the playoffs. Haas never has lost his passion for the game, but he has rediscovered how much fun it is not to scroll too far down the leaderboard to find his name.
"I felt like I had one more run in me," Haas said Tuesday evening. "I told some people even a year ago. I was disappointed I didn't get any further than I did, where I finished on the money list last year, not making the championship.
"I felt like I had one more run. I just didn't know how long it would take or when I'd find that momentum."
Momentum found. It came at the first playoff event, the Dominion Energy Charity Classic, where Haas nearly shot his age in the second round with a 65, and almost became the oldest player to win a PGA TOUR Champions event before eventually finishing T3. It was his best result of 2018.
How did he follow it up? With a tidy T6 at the Invesco QQQ Championship to solidify his spot among the top 36 players who make the field for the season-ending Charles Schwab Cup Championship.
Haas can't win the Cup – only the top six players in the standings can (Haas is 28th) – but he still can win the finale. It's an event for which he didn't qualify a year ago, and he set a goal of making sure he returned this year.
What suddenly changed?
"I started hitting my irons better," Haas said. "I've driven it decently (Haas is, in fact, eighth on tour in driving accuracy), but my irons were not very good at all. For some reason I just started hitting them crisper.
"As golfers, we're always trying to change certain things, get more consistent. I've tried 8,000 tips, and most of them don't work. But I got a little swing key, not trying to sway off the ball so much, not trying to get too far behind, not have to catch up so much to get to the ball."
The results speak for themselves. Suddenly Haas has a little more pep in his step, a gleam in his eye. He's the old gunslinger in the spaghetti Western. He just wants one more duel, one more chance to stare down an opponent, draw his six-shooter and fire.
Perhaps the Phoenix Country Club, site of the Charles Schwab Championship, is just the right venue. It's not quite the same course it was in 1979, when Haas finished runner-up to Ben Crenshaw at the PGA TOUR Phoenix Open. It was redesigned in 2002 by Tom Lehman and his design partner John Fought.
But it still puts a premium on accuracy off the tee because of its narrow, tree-lined fairways, and on crisp iron play because of its many and dastardly bunkers.
What is it that Haas has done well this year? Hit fairways. What has he recently gotten hot with? His irons.
"I will say this is not a typical course that we play a lot of," Haas said. "People are surprised the courses we play are 7,000-plus yards. If it's under 7,000 it's kind of a shock to us anymore.
"This course doesn't seem to play quite as long. I guess 1986 was the last tournament they had here. The course has changed. It's tougher with the green complexes and bunkering. I played 18 today and feel the course wasn't overwhelming to me on the length. I'll have to hit a lot of good short irons and take advantage when I do get a chance."
Haas knows he's a longshot to win. But damn if he doesn't sound like the cat who swallowed the canary. It's fun to play when the game is coming easily. He admits his attitude has gotten better. He's eager to meet the challenge.
It's all about perspective. Haas still loves playing. He loves that his recent play has earned him plaudits from his sons, pretty fair players in their own right. It's always cool to hear "nice playing, Dad."
"People ask me how much longer I'll play," Haas said. "When I shoot 75 and I've played my best, saved every single shot … I don't want to do a steady diet of that.
"I was always feeling like I left something on the course. I felt like if I cleaned some things up and thought my way around the course better and made a few putts I could be competitive. And it's a ton of fun. One of my goals was to get here. And to win this year. I almost did that. It would be a tall order this week to get that win, but I'm playing well and feeling confident."