Newlywed Will Zalatoris returns from back injury at Sentry
Newlywed Will Zalatoris returns from back injury at Sentry
January 03, 2023
By Kevin Prise ,  PGATOUR.COM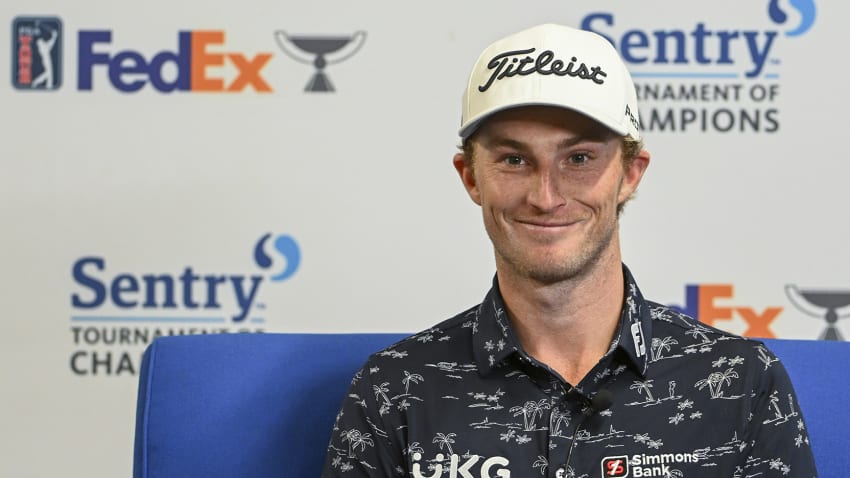 Will Zalatoris is set to make his first TOUR start since the BMW Championship last August. (Tracy Wilcox/PGA TOUR)
Will Zalatoris "found the end of Netflix."
He attended the Presidents Cup.
He even married his longtime sweetheart, Caitlin.
Zalatoris made the most of a four-month rehabilitation process after suffering two herniated discs in his back, but it's a new year and he's ready to return to competition at this week's Sentry Tournament of Champions.
It's the PGA TOUR's first designated event of 2023, with 17 of the top 20 players on the Official World Golf Ranking set to compete at the Plantation Course at Kapalua. There's not much time to shake the rust; Zalatoris is quickly back to the throes of elite competition.
Bring it on.
"I've learned a lot about my body, probably more than I think I ever wanted to," Zalatoris said Tuesday afternoon in Hawaii. "December 1, I think, was the first day I was cleared for full activity, and really just have been doing as much as I can since then … not being able to have a club in my hand for a couple months, I don't think I've done that probably since I was 8 or 9.
"But the speed's the same; everything feels really good. So just keep doing what we're doing and let the next win get in the way."
Congrats @WillZalatoris and Caitlin! 🥰 pic.twitter.com/mrwpPK5kbL

— PGA TOUR (@PGATOUR) December 14, 2022
After his first TOUR victory at the FedEx St. Jude Championship in mid-August, the first of three FedExCup Playoffs events, Zalatoris was forced to withdraw during the third round of the following week's BMW Championship due to injury. He then withdrew from the following week's TOUR Championship, finishing a disappointing 30th in the FedExCup after entering the week at No. 3.
During the hiatus, Zalatoris spent time with Greg Rose, a Doctor of Chiropractic at the Titleist Performance Institute, conducting an assessment with the goal of promoting career longevity. They examined the pressures of his swing, concluding a motor pattern was the root cause of the strain on his back. He tends to push off his right side later than most; with his level of side bend, his right hip is high with his spine tilted back.
"As Dr. Rose said, duh, no wonder I had a back issue," Zalatoris quipped.
The fix: adjusting his setup, with the goal of reducing the strain on his back.
"Be a little more centered, as opposed to having ball forward with more spine tilt at address," Zalatoris said. "I'm trying to get more centered over it and work more around my right side, so more a turn as opposed to a lateral shift. When my right hip gets high and the spine tilts back, you're all of a sudden creating all that stress on your back.
"It was nice because I was able to bring the ball flight down; living in Texas, you're used to hitting the ball low, but it's doing it by itself as opposed to having to manipulate it. So it was actually kind of a nice fix."
Will Zalatoris navigates a practice round Monday at the Plantation Course at Kapalua. (Andy Lyons/Getty Images)
Zalatoris led the TOUR last season in Strokes Gained: Approach-the-Green, after ranking No. 7 the season prior. He ranked top-three in both Total Driving and Greens in Regulation on the 2019 and 2020-21 Korn Ferry Tour, as well.
The Wake Forest alum has been a premier ball-striker for four consecutive seasons in TOUR-sanctioned competition, and he admits it's not natural inclination to want to change anything. But in the name of avoiding future injury, he's working through the proverbial process.
"We've looked at everything I was doing, to make sure I was doing all the right things and we were checking all the boxes, and it was strictly a motor pattern thing," said Zalatoris, who has opted to temporarily decrease his driver length (to approximately 44.75 inches, down from 46 inches) as he works through the setup change.
"Which is kind of a good thing and a bad thing, because when I was hitting the ball the way that I was, it's hard to want to change anything, but at the same time I actually saw some benefits. I'm more efficient in my golf swing — so that's why the speed is the same with the shorter driver; it's just because of the efficiency now of how I push into a golf ball."
The 26-year-old has long displayed an aptitude for quickly bouncing back from injury. After withdrawing from the 2021 Open Championship due to a muscular issue, he finished T8 in his next start, the WGC-FedEx St. Jude Invitational three weeks later. Back in 2015, he finished T4 at the Pacific Coast Amateur shortly after returning from an emergency appendectomy.
Zalatoris experienced a string of close calls last year – namely six top-six finishes in an eight-event stretch, including runner-up finishes at the PGA Championship and U.S. Open – before his breakthrough victory at the FedEx St. Jude Championship. Suddenly the close-call narrative was put to bed – he memorably exclaimed, "What are they gonna say now!" upon draining a par putt on the 72nd hole to force a playoff with Sepp Straka at TPC Southwind. Zalatoris won on the third playoff hole.
"What are they gonna say now?!" pic.twitter.com/4vZcI82Art

— PGA TOUR (@PGATOUR) August 14, 2022
That's the most recent tournament he completed before injury struck, and it's a feeling he's keen to recapture.
"Being in contention as much as I was last year, there's just no better feeling than it," Zalatoris said Tuesday. "Whether you win or lose, it's just what you practice for."
During Zalatoris' rehab process, his routine might have looked like "have a few putts and then maybe need to go grab a few beers with my boys." But he's an unabashed golf addict who will eagerly play four or five events in a row. He admittedly got bored quickly with his recovery routine.
Thursday afternoon in Hawaii can't come soon enough.
"Watching some of my friends play, going to the Presidents Cup, kind of keeping my mind active and spending some time with the guys back home, even just riding around in a cart when they were playing," Zalatoris described his downtime, "keep my mind active, even though my body wouldn't let me.
"Then once I came back, it was pretty easy to keep the competitive juices flowing."
All the emotions from @WillZalatoris. pic.twitter.com/fXjW93MtqM

— PGA TOUR (@PGATOUR) August 14, 2022