Palmer back as a winner, this time with Rahm
April 28, 2019
By Mike McAllister, PGATOUR.COM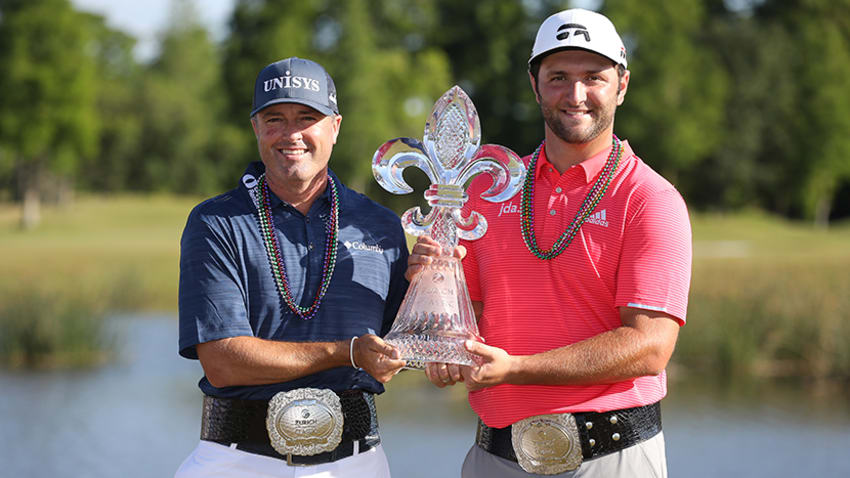 AVONDALE, La. – On Sunday morning, with her husband on the verge of his first PGA TOUR win in nine years, Jennifer Palmer and their son Mason hopped on a plane from Dallas to New Orleans. Daughter Madelyn opted to stay back home.
Normally, Jennifer would've been here all week. After all, she explained, "it's New Orleans. Yummy food, and everything else."
But she had mom duties. Mason was involved in a middle school play, "Shrek Jr." Opening night was last Thursday, with more performances the next two nights. Plus, he had weekend hockey practice. He wanted to see dad, though, so he skipped Sunday to join his mom.
The trip was worth it. The 42-year-old Palmer ended his lengthy drought, partnering with 24-year-old Jon Rahm to claim the Zurich Classic of New Orleans by three strokes over Sergio Garcia/Tommy Fleetwood.
For Rahm, it's his third victory in as many years on TOUR, and his seventh worldwide win since turning pro. The Spanish youngster's future is as bright as they come. "He's got a special art, that's for sure," Palmer said. "He'll be winning lots of tournaments, multiple majors … [I'm] honored to be a part of his story."
The most touching story on this day, though, was the one Palmer has been through.
2017 was a difficult year for the Palmers. Jennifer was dealing with breast cancer; she had started chemotherapy the previous fall on Ryan's 40th birthday. Meanwhile, inside the ropes, his career had reached the tipping point.
He couldn't putt.
"He had the yips," recalled his long-time caddie and good friend James Edmondson, uttering the one word no golfer never wants to hear. And certainly never wants to admit. "I'm not going to use that word," Palmer said "… but it was getting close to it."
Smiles were everywhere after Jon Rahm and Ryan Palmer won Sunday. (Stan Badz/PGA TOUR)
It was indeed bad. Two-footers were troublesome. In 2012, Palmer was a top-20 putter on the PGA TOUR. In 2017, he ranked 190th. He didn't even know there were that many players to be ranked.
At the time, Palmer was 7 years removed from his last win. Edmondson, who's been on his bag since 2002, worried about his good friend's future.
"I thought he was done," he admitted. "It was really, truly hard to watch. I just had to tell him – you gotta change something."
Palmer always has used a conventional putting grip. It has served him well, with three TOUR wins. But now at a crossroads, he was willing to make an adjustment.
At first, he looked at changing putters – he went to a golf store in San Antonio and bought six different putters. Later, he was testing out 10 different putters.
Ultimately, he decided to stick with his old putter, but on the advice of coach Randy Smith, change hit putter grip to a Flat Cat, which is essentially four-sided instead of rounded. That resulted in a grip change, as he moved away from conventional and opted for the claw grip.
His first tournament using the changes was the 2017 John Deere Classic. Results weren't immediate, but he stayed with it, working diligently on his putting that off-season.
"Just kept grinding and grinding with it," Palmer said.
Then at the 2018 Farmers Insurance Open, he was part of a three-man playoff. Jason Day won the tournament, but for Palmer, it solidified his confidence in the new grip.
"It was a last-ditch effort to change the putting stroke," said Edmondson, an accomplished golfer himself, having won the club championship multiple times at Colonial in Fort Worth, where he and Palmer are members. "That's what kept him out here the first 10 years and it almost took him off.
"For him to battle that, along with everything else that was going on at home, just shows the character he has and the hard work he put into it."
The renewed confidence still wasn't translating into victories. He had a couple of sniffs last fall, including THE CJ CUP @NINE BRIDGES in Korea when he tied for third. He was top-5 at The Honda Classic in February. But at age 42, and with kids like Rahm making noise, not taking advantage of those opportunities can make an veteran wonder just how many are left.
Palmer never lost faith. "One round kind of kept me out of it each time," he said. "But I just kept believing in what I was doing. I knew my game was good enough."
On Sunday, in the Foursomes alternate-shot format that may be the cruelest in all of golf – Geoff Ogilvy, as noted many times on the TV coverage Sunday, once called it a " 4-1/2 hour guilt trip" – Palmer certainly never wanted to leave his partner hanging. He was putting not only for himself but for Rahm.
At the eighth hole, he saved par by rolling in a 6-footer. At 11, he saved par with a 7-footer. At 14, he rolled in an 11-footer for birdie. One hole later, Rahm followed with a 24-foot birdie putt that essentially sealed the deal.
That allowed Palmer and Rahm to enjoy their walk toward the 18th green at TPC Louisiana, soaking in a victory that, while shared, felt just as sweet as their individual accomplishments. Certainly it did for Palmer, who – even though he is a Dallas Cowboys fan — loves New Orleans and is a good friend of Saints coach Sean Payton.
Minutes after the last putt dropped, when asked about the nine-year journey between victories, the tears started to come from a man who, like most Texans, usually plays it close to the vest with his emotions. Palmer then hugged his wife, hugged his son, hugged his friends from his hometown of Amarillo who also made a special trip to see him win.
Jennifer is cancer-free now, although she still must attend to things in hopes of staying that way. Ryan, meanwhile, has his favorite part of the PGA TOUR season coming up with events back home in Dallas and Fort Worth at his beloved Colonial for the Charles Schwab Challenge.
And now he's back in the winner's circle — not that it's really any surprise to his caddie, who offers not only tough love, but unwavering faith and devotion.
Around Christmas time, buoyed by that close call in Korea, Edmondson told some of his buddies that Palmer was not done winning. He never told that to Palmer himself, but he believed in his man.
One friend said it was all talk. Edmondson said he would put it into writing, and so he did, signing his name to a document that guaranteed Palmer would win in 2019. It may not be notarized, but the evidence is there in case anyone needs proof.
And now?
"We're going to Maui," said Edmonson, looking ahead to next season's Sentry Tournament of Champions. "It's been awhile."