Pierceson Coody's Saturday 66 at Bay Hill has him hunting for a big finish
Pierceson Coody's Saturday 66 at Bay Hill has him hunting for a big finish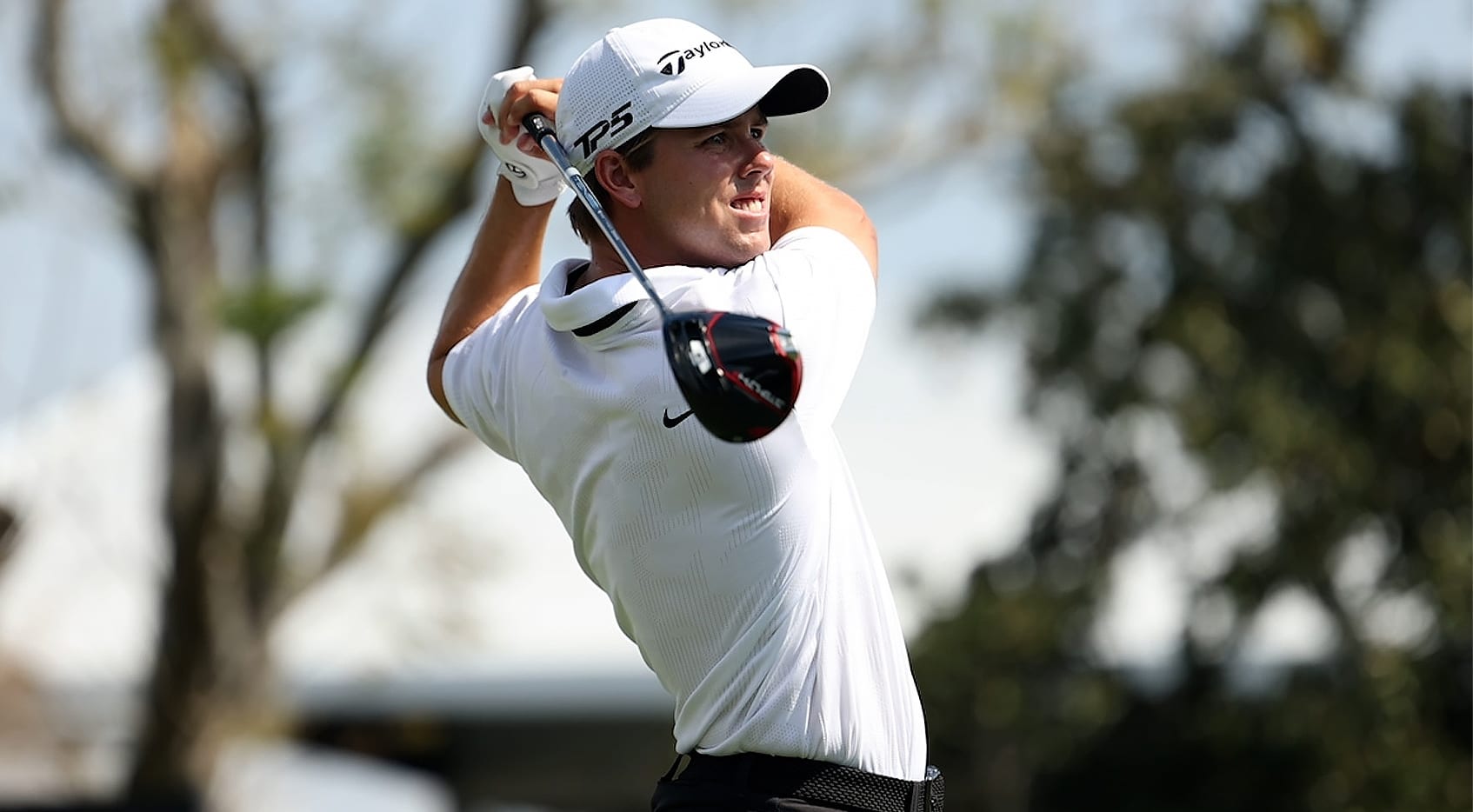 ORLANDO, Fla. – For all the discussion during the Florida Swing with back-to-back Designated events, at two of the most prestigious courses on TOUR, golf can be as easy as putting a peg in the ground and going as low as you can go. Nothing bigger than that.
That was the case with 23-year-old rookie Pierceson Coody on Saturday morning at the Arnold Palmer Invitational presented by Mastercard. Friday, he scrambled just to stay inside the cut line, getting up-and-down for bogey at the 18th hole at Bay Hill Club & Lodge to get to 1-over 145 and earn his spot into the weekend. (Coody, who had birdied 17, would make it with a shot to spare.)
Late Friday, he and Cole Hammer, a teammate from the 2022 NCAA national champion Texas Longhorns, were sitting in the locker room, talking about their days. Coody had shot 1-under 71 to play on the weekend for a second consecutive week; Hammer made the grade with a Friday 73 in tough conditions.
"We're in no good position," Coody said, "we're like T-50 (actually T-53) and T-40 (Hammer was T-41). So why not go out Saturday and have a great round?"
Coody, grandson of 1971 Masters champion Charles Coody (who beat a couple of guys named Jack Nicklaus and Johnny Miller for his Green Jacket) held up his end of the deal. With the morning winds laying low, he made the most of his 8:25 a.m. tee time, shooting a sizzling 31 on Bay Hill's opening nine, the tougher of the club's two nines.
Coody got off and running with birdies at the third and fourth (from 10 feet and 16 feet, respectively), took care of the par-5 sixth, where he missed from 6 feet for eagle, then tacked on birdies at the difficult eighth and ninth holes. On the ninth, he hit an approach from 176 yards to 2 feet.
Coody followed with two birdies and a bogey on his second nine to shoot 6-under 66, making a nice leap up the board, reaching 5-under 211 through 54 holes.
"With the way the money is and everything, and where we are in our careers," Coody said of he and Hammer, "it's just an opportunity, and it's a lot of fun to be doing it together."
A week ago, Coody competed in a PGA TOUR event for the first time as a professional, getting to do so alongside his twin, Parker Coody, who was a Monday qualifier at The Honda Classic. (Parker missed the cut.) Saturday, Pierceson started great (4-under 66) and tied for 63rd, earning $17,808. This week, the Arnold Palmer Invitational is a Designated event offering a purse worth $20 million, so another low round by Coody would pay even more handsomely.
Coody is a two-time winner on the Korn Ferry Tour, and will return to chasing a card on that circuit soon. In the meantime, he does have PGA TOUR starts awaiting at the Valspar Championship, Wells Fargo Championship and the AT&T Byron Nelson near his home in Texas.
Kyle Coody, Charles' son and father to Pierceson and Parker, gives plenty of advice to his boys, and one pearl is this: Don't let the moment be too big for you. There are a lot of young players these days who seem to follow that advice, who can play among the biggest stars with little intimidation, and a fearlessness that allows them to show off on days such as these.
Saturday's round at the Bay Hill reminded Coody of his final round in Panama, where he recently prevailed in a Korn Ferry event. He was hoping for the winds at Arnie's Place to kick up some in the afternoon, which would keep him a little closer to the lead for Sunday's final round. As difficult as it is playing, he will show up looking to go low again.
"I just don't think there is anything to lose, and everything to gain," Coody said. "You're playing on the PGA TOUR; I'm playing a Designated event on a sponsor exemption. I couldn't be happier just to be playing."