Q&A with John VanDerLaan on childhood heroes, Connecticut pizza and more
March 25, 2020
By Adam Stanley, PGATOUR.COM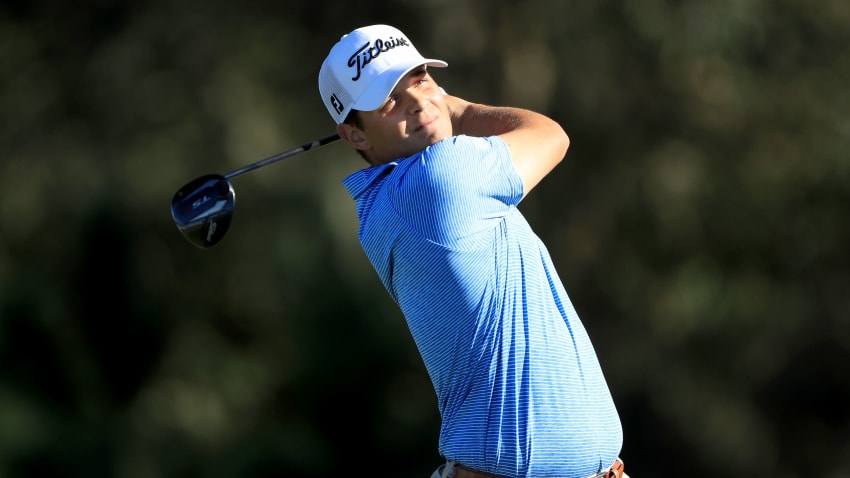 Florida Southern alum John VanDerLaan is 6-for-6 in Korn Ferry Tour cuts made this season. (Sam Greenwood/Getty Images)
Through the opening part of the 2020 Korn Ferry Tour season, you could make a case that John VanDerLaan has been the most consistent guy out there.
The collegiate superstar – four-time All-American, and both the Jack Nicklaus Award winner and Division II NCAA individual national champion in 2018 – made his pro debut last year but made just one Korn Ferry Tour start on conditional status.
But after a T7 showing at Final Stage of Q-School, VanDerLaan has proven he's got adjusted nicely to the pro game.
The native of Southbury, Connecticut spent a few minutes with PGA TOUR Digital chatting about his heroes (and which one of them he's met), which TV show he could watch forever, and the best golf shot he's ever hit.
"(Camilo is) definitely someone that I saw growing up and watched play … To be out here competing against him now and to see all the fans here in his home country, it's been a lot of fun."@johnvanderlaan relished the opportunity to play with @CamiloVillegasR in Colombia. pic.twitter.com/VbB3XvxF1y

— Korn Ferry Tour (@KornFerryTour) February 8, 2020
How mad were you when Billy Andrade stole your animal crackers as a youngster?
(Laughs). I was probably 7 or 8 years old and my dad, brother and I went to the Travelers (Championship) and there used to be a little snack bar with picnic tables right on your way from the clubhouse to the first tee. We stopped there and had some animal crackers, some snacks, and Billy Andrade decided to stop by and chat with us and have a few of our animal crackers. Obviously being a 7-year-old or however old I was, I was like, 'Who is this guy stealing my animal crackers!?' (laughs) and obviously my dad knew who he was. It was just cool. He was on his way to the tee box and must have been a few minutes early so he decided to pop in, chat with the kids for a few minutes. That was a lot of fun.
You're from Connecticut. How did it become such a hotspot for pizza, and what is your favorite?
I don't really know how it became such a hotspot! But favorite for me … that's a tough one. There are the three main ones in New Haven: Pepe's, Sally's, and Modern. You can't go wrong with any of them, but I definitely have Pepe's the most. They have a couple of other locations. There's one in Danbury, which is only 15 minutes from my parents' house. We'd go there when we were looking for a pizza. But I can't say you could go wrong with any – they are all so good. Pepe's is one of the originals. They've branched out and have a couple more locations in Connecticut than the original, so when we're looking for good pizza, that's where we go.
What is the best concert you've ever been to?
I haven't been to too many concerts, maybe only two or three in my life. I can't even think of it! Wow. It was at the amphitheater in Tampa but it must not have been that good because I can't even remember who was the headliner (laughs).
If you weren't a golfer, what would you be doing with your life?
To be honest, I have no idea what I'd do with my life, so this better work out (laughs). I have a funny story about that. One time, my senior year of college, I was home for winter break and I went out for breakfast with my mom, and I think my girlfriend was there too. It was my last break being home before I was done with college, and I was like, 'Mom, seriously, if I don't play golf, what do you see me doing?' And she looked me dead in the face and said, 'Honestly, John, I have no idea' (laughs). I was like, 'OK, that's reassuring. This whole golf thing better work out.' I really have no idea, and no one else around me knows either. I'm sure I could figure it out, but hopefully I never need to.
Last year, @FSC_Mocs alum @JohnVanDerLaan advanced through Second Stage on the number.

This year, he won his site by EIGHT shots to secure 2020 #KornFerryTour status.#LiveUnderPar pic.twitter.com/NQFg7asR2t

— Korn Ferry Tour (@KornFerryTour) November 12, 2019
Growing up, who was your hero?
There were probably two. When I was younger, like going into high school, I played a lot of baseball too. Being from Connecticut, I was a Yankee fan, so Derek Jeter was a really big one for me when I was younger. Obviously, now, being 23 years old, Tiger Woods is the guy. I was 5 years old in 2001 and I started playing golf when I was really young – I got to see the tail end of when he was super, super dominant. I first started paying attention to him then, and I got to see him win a bunch and obviously everything that happened, and the comeback … It was the prime years when I was looking for role models. I would say Tiger and Derek Jeter have to be Nos. 1 and 2.
If you could only watch one TV show for the rest of your life, what would it be?
I've got a few that are great. A classic is 'Friends.' Love 'Friends.' And then I'm a huge fan of 'Suits.' Love that show. There are a bunch of them that I could go any direction. But I could re-watch 'Friends' as many times as I want and never get tired of it.
What is the best golf shot you've ever hit in your life?
I have a good one: National championship, my senior year, last round of stroke play. It was a 190-yard par 3 over a big ravine with a river to the right. The pin was tucked back right. I had a one- or two-shot lead. I was in the last group, so the rest of the team was sitting up on this hill behind the green. My teammates were probably like, 'He'll hit this in the middle of the green, make his par because it's not that easy of a hole.' I had been playing a little fade all week so I was aiming at the middle of the green and I blocked it a little bit and I hit the pin on the fly (laughs). It went about 10 feet, so I rolled it in and won by three. Senior year and national championship to hit that shot? That was really cool.
Since turning professional, have you made any big purchases?
No, nothing crazy. I haven't made enough money to buy anything crazy yet (laughs). I've obviously played pretty well this year and made some money, but I had a tough year last year with conditional status and had to Monday qualify, so I'm just investing that in myself and putting it back towards travel expenses and all that stuff.
Who is the most famous person you've ever met?
Well, I've actually met Tiger before! Joe LaCava, Tiger's caddie, is from the same hometown as my family. When I was really young, Freddie Couples came to our town and he'd go out for ice cream and hang out with Joe and his family. Joe has a daughter that's a year younger than me – she's my brother's age, so they went to school together their whole lives. We knew (Joe) from sports and growing up around town. One year at Bay Hill, the last time Tiger played, I was in college just 45 minutes from Bay Hill, so Joe got me tickets to go for a practice round. I talked to him for a while, and once they were done with their day, he brought me into the parking lot with him and introduced me to Tiger. That was really cool. I got to talk to him for a few minutes. That was awesome. Joe is a great guy. I would never ask him for something like that, but he just did it because he wanted to and he knew I grew up watching Tiger play. Tiger didn't seem to mind. He and Joe have such a great relationship – it was fun to get to talk to them for a few minutes.
Last year, @FSC_Mocs alum @JohnVanDerLaan advanced through Second Stage on the number.

This year, he won his site by EIGHT shots to secure 2020 #KornFerryTour status.#LiveUnderPar pic.twitter.com/NQFg7asR2t

— Korn Ferry Tour (@KornFerryTour) November 12, 2019