Return to Golf takeaways: Zalatoris shines, Summerhays' storybook surge
July 07, 2020
By Adam Stanley, PGATOUR.COM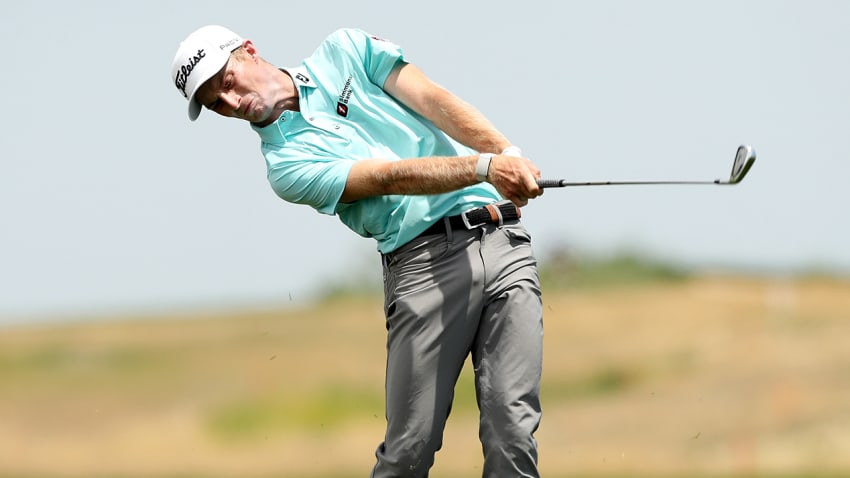 Wake Forest alum Will Zalatoris has finished top-six in all four Return to Golf events. (Matthew Stockman/Getty Images)
It was a month nobody ever thought would happen. Four weeks in the middle of the season that featured two new tournaments, no fans, and lots of long swabs up noses.
But such is the new reality during the time of COVID-19.
The PGA TOUR began its Return to Golf a month ago, and with that, the Korn Ferry Tour's 2020 season concurrently commenced. With four events now in the rearview, the season chugs along, starting this week with two new tournaments in Texas – added to the schedule after the Tour lost 10 events to cancellations.
While the Korn Ferry Tour, and the world at large, is navigating this new normal, one thing is for sure: there will continue to be thrilling finishes and great golf played on Tour this summer.
After an unprecedented four weeks of Korn Ferry Tour history, here is a look back on the key moments in the first month of the Return to Golf.
---
IT WAS ONLY A MATTER OF TIME
Will Zalatoris had done everything he needed to so far this season, except win. It finally happened at the TPC Colorado Championship at Heron Lakes.
Zalatoris, a former star at Wake Forest University, finished T6-T3-4 in the first three weeks of the Return to Golf but broke through with a one-shot victory over Chase Johnson in Colorado.
Not only is Zalatoris now No. 1 on The 25, but his steady play (he hasn't missed a cut all season) has translated nicely even with a three-month break in-between.
"It's nice to see it finally pay off. This is my first win as a professional on any level, so it's pretty nice," said Zalatoris after the final round in Colorado. His last win on any level came in 2017, the year after he was named the ACC Player of the Year (Webb Simpson and Bill Haas are the only other golfers to have done that for Wake Forest – which is nice company to keep).
After the Korn Ferry Tour's break, Zalatoris has been inside the top-12 on the leaderboard at the end of all 16 rounds played.
This season, the 23-year-old stands No. 1 in all-around ranking and ball striking, and No. 2 in scoring average.
Impressive form that Zalatoris has no plans to slow anytime soon.
"We're one step closer to getting our (PGA TOUR) card," said Zalatoris after his win, "so two more (wins) to go."
The Korn Ferry Tour has always been the kind of place where miracles are made. There was nearly an all-time story told in Utah as part of the Tour's Return to Golf.
Daniel Summerhays, 36, announced earlier in the week that he was planning to make the Utah Championship presented by Zions Bank – a hometown event, of sorts – his final start as a professional. The event is played at Oakridge CC, Summerhays' childhood home course, and it was a family affair: his brother was his caddie for the week, and he was paired with nephew Preston for the first two rounds.
The plan was to retire and take a job as a teacher and high school golf coach. But he nearly won the tournament.
Summerhays, in the final round, played a seven-hole stretch in 6-under par. He bogeyed the 72nd hole of the week but still finished with a flurry – a 9-under 62. And then, at 20-under for the week, he waited.
With the wind picking up, nobody else went as low as Summerhays did, and he ended up in a playoff with Paul Haley II and eventual winner Kyle Jones.
Summerhays' dream stretch came to a close on the first playoff hole, but he was certainly the story of the week – and one of the stories of the year.
While Summerhays won a Korn Ferry Tour event as an amateur in 2007, he never won as a professional. He did, however, earn nearly $9 million on the PGA TOUR and finished third at the 2016 PGA Championship.
And he was on the tee the next week at the TPC Colorado Championship at Heron Lakes.
Retirement might need to be put on hold, after all.
An emotional runner-up for Daniel Summerhays at his hometown @UTChampionship.

He had planned for it to be his final start as a pro.

But after receiving overwhelming support across the golf community, he's onward to @TPC_ColoradoHL. pic.twitter.com/RdKHO8kUZn

— Korn Ferry Tour (@KornFerryTour) June 30, 2020
---
TOUR EXPERIENCE SHINES THROUGH
The first two tournaments of the Korn Ferry Tour's return took place in Florida, and a large number of players with PGA TOUR status ended up playing – with the first two events on TOUR being chalk full of almost everyone eager to tee it up again.
The first two winners showed what kind of impact TOUR experience can have, as both events were won by TOUR members, and in the case of Chris Kirk, someone who had won on golf's biggest stage before.
Luke List won the Korn Ferry Challenge at TPC Sawgrass, topping Shad Tuten and Joseph Bramlett by one shot. It was List's second Korn Ferry Tour victory, as he won the 2012 South Georgia Classic. While he has never won on the PGA TOUR, he has been a steady presence there – and lost in a playoff to Justin Thomas at the Honda Classic in 2018, his best TOUR result to date.
The following week was a feel-good story in Kirk, who had taken six months off from golf to deal with alcohol and depression issues. Kirk has won four times on the PGA TOUR (including three seasons in a row) and won twice on the 2010 Korn Ferry Tour.
Kirk's victory, at The King & Bear Classic at World Golf Village, came by one over Justin Lower and three over Will Zalatoris and Bramlett.
"It gives me a deeper sense of appreciation and gratitude for everything. I'm a completely different person than I was two years ago," Kirk said after his win. "I can't wait to get home tonight and give my wife and three boys a hug, and that's what I care more about now. It's amazing seeing the complete shift in my mentality as far as that's concerned."
"For months, I didn't think that I wanted to do this anymore."

But after taking time off to deal with issues of alcohol abuse and depression, @Chris_Kirk_ stayed the course.

He earned his first win since 2015 at The King & Bear Classic, his seventh @PGATOUR-sanctioned victory. pic.twitter.com/nQUNp27h9u

— Korn Ferry Tour (@KornFerryTour) June 22, 2020
---
THE SCHEDULE SITUATION
The newly created 2020-21 schedule was announced May 4 and will bridge two seasons, with 25 PGA TOUR cards to be awarded upon the conclusion of the Regular Season in late-summer 2021, and another 25 cards awarded via the Korn Ferry Tour Finals in 2021.
The Return to Golf commenced with back-to-back new events (Korn Ferry Challenge; The King & Bear Classic), while back-to-back new events will take place at TPC San Antonio — starting at this week's TPC San Antonio Challenge at the Canyons, followed by the TPC San Antonio Championship at the Oaks.
Another new event, the Orange County National Championship presented by Knight 39, will take place in October.
With Will Zalatoris' fabulous play so far this season, including his run of four-straight top 10s during the Return to Golf, he now sits first on The 25. Upon the conclusion of this year's Korn Ferry Tour Championship presented by United Leasing & Finance, the top 10 on the Points List will have access to the PGA TOUR's additional events in 2020-21.
While there have been cancellations and postponements, the Korn Ferry Tour has still had winners, thrills, heartbreak and excitement – with more to come.