Riley 'on a good track' to earn PGA TOUR card
July 24, 2019
By Adam Stanley, PGATOUR.COM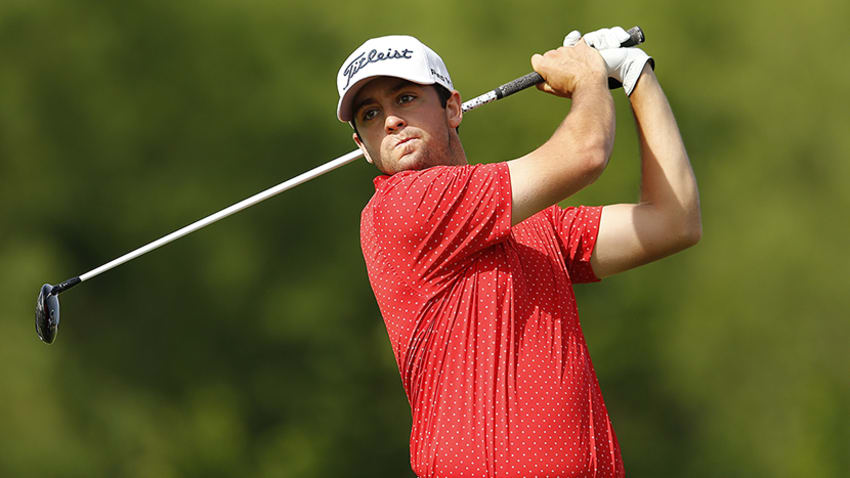 Davis Riley is on the cusp of qualifying for the Korn Ferry Tour Finals. (Michael Reaves/Getty Images)
Davis Riley admits his decision in January to turn professional was a scary thought. Now, it might be the best decision he's ever made.
Riley, who decided to forgo his final semester at the University of Alabama in favor of turning professional – but didn't have any status to start the Korn Ferry Tour in January – has parlayed a handful of successful Monday Qualifier results into full status for the balance of the year.
With just three tournaments left in the season, he's on the cusp of earning a spot in the Korn Ferry Tour Finals, and potentially, a PGA TOUR card.
"I came out and had belief in my game. I trusted what I was doing," says Riley. "I had the right people around me and a great support system around me, which helped me excel right when I came out, so I could hit the ground running.
"I set my goal at the beginning of the year as, 'an opportunity to get my TOUR card' and I'm on a good track for that."
Riley finished T18 in Bogota to earn a spot at the Panama Championship to start his run, and he qualified for both the LECOM Health Challenge and the Robert Trent Jones Golf Trail Championship before getting a sponsor's exemption into the Evans Scholars Invitational. He Monday Qualified for the REX Hospital Open and finished T7, which got him into the following week at the BMW Charity Pro-Am presented by SYNNEX Corporation, where he finished T-15.
That result gave him status on the Korn Ferry Tour for the balance of the year. He's 65th on the season-long points list going into this week in Springfield, Missouri.
"I really just embraced knowing it was going to be a tough road, coming out with no status. I embraced it and just tried to play the best I could every time I teed it up," says Riley. "I didn't have guaranteed starts or anything like that. I was really serious and into every week I played because I look at it as an opportunity."
Riley had a successful college career and a decorated run as an amateur, reaching as high as 8th in the World Amateur Golf Rankings. He says his decision to turn professional in the middle of the college golf season was a hard one. But he sat down with the management company he was going to sign with, family, and coaches, and says the decision just made a lot of sense. His game was ready, he says, and by starting in January, he had an extra six months or so to earn a TOUR card.
"Obviously it was really tough. The guys I was playing with are my best friends. And they really were true friends. They were very supportive in my decision and they understood," says Riley. "Honestly, there was just more time to get a TOUR card, and I felt like where my game was at, it was the right time."
That family atmosphere at Alabama is something that's carried over into his first full year on the Korn Ferry Tour, too.
Friend and occasional roommate Robby Shelton ("He's an unbelievable player and I just knew it was a matter of time for him. There's no doubt in my mind he was going to get a TOUR card and be a great TOUR player," says Riley) is also an Alabama golf product, along with Tom Lovelady, Lee Hodges, and more. Even Emma Talley on the LPGA Tour gets in on the support from the guys.
Riley says Shelton, who has won twice this year, has been a huge help even with the little things like where to stay on the road. The camaraderie has been helpful to make things more comfortable. Even though everyone has left college and is on the next level now, the support system remains.
And that support comes even from one of the best players in the world.
Justin Thomas is on a big group text with most of the guys, and has become a great friend to guys like Riley, who says he's lucky to be able to bounce things off of the former FedExCup champion.
Riley says Thomas was one of the first players he ever met when he was on a recruiting visit to Alabama, and they've been in touch ever since. He bounces ideas off Thomas now, and Thomas was a key sounding board when Riley was weighing his options in terms of turning professional.
"Not that he persuaded me about turning pro or staying – he didn't tell me to do either. He just told me 'you know when' and that it's 'your career and not anyone else's. Just do the best for you,'" says Riley. "He's been a huge help for me just starting out, and even in my college career."
Now that Riley is getting closer to joining Thomas on the PGA TOUR and where he's going next, he reflects back on where he came from – a small town in Mississippi – with fondness.
Riley grew up in Hattiesburg, Mississippi, a town with a population of only 45,000 and the home of the University of Southern Mississippi. He was about 150 yards from the clubhouse of Canebrake Country Club and would walk over, every day, even in the sweltering south Mississippi heat ("I'll argue with just about anyone that it's the hottest place on earth," he says with a laugh) as a youngster.
Now, on the rare occasion he does get to return home – Riley says he's planning to move to Dallas soon to set up a home-base, since his coaches, management team, and girlfriend of nearly 20 months are there already – he'll do that same walk to a little shaded area on the driving range to put in work.
The young boy with a dream has turned into a young man with a plan.
"Up to this point I'm really satisfied with how I've played," says Riley of his year to this point on the Korn Ferry Tour, "but I think my best golf is still ahead of me."