Sluman to make his 1,000 start at Sanford International
September 18, 2019
By Bob McClellan, PGATOUR.COM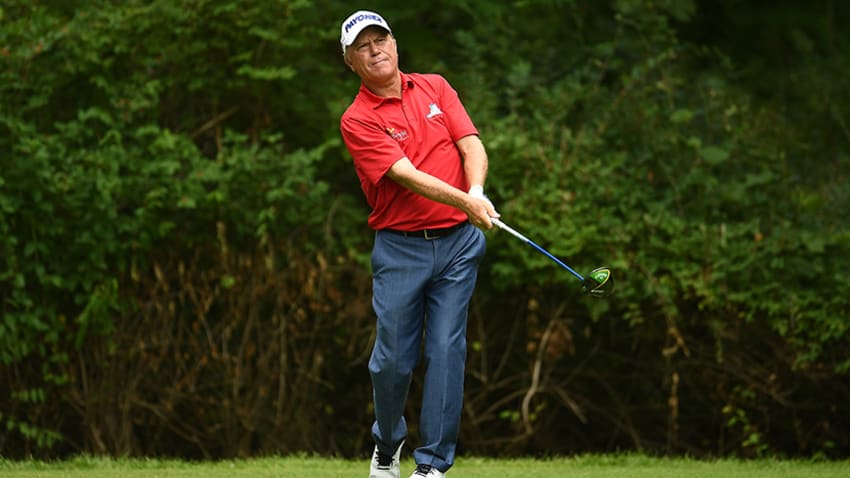 Jeff Sluman hits a major milestone this week at the Sanford International. (Stacy Revere/Getty Images)
Jeff Sluman, 62, just might be ready to reduce his schedule.
The former finance major at Florida State figures he has played in roughly 25 PGA TOUR-sanctioned events a year for the past 40 years.
"If you told a young guy on the PGA Tour that number of starts a year, he'd look at you like you were from Mars," Sluman said Tuesday, just three days before he is scheduled to make the 1,000th combined start of his PGA TOUR/PGA TOUR Champions career at the Sanford International in Sioux Falls, South Dakota.
Sluman said it became "important" for him to reach 1,000 once he heard he was within reach of the mark. He was surprised to learn he's the 21st player to join the club. Sluman won six times on the PGA TOUR and six times on PGA TOUR Champions. He was one major on his resume – actually his first victory, too – the 1988 PGA Championship, in which he took down former FSU teammate Paul Azinger by three strokes.
According to research from the PGA TOUR, Sluman has played 3,310 rounds and 59,580 holes, with 700 starts on the PGA TOUR and 299 on PGA TOUR Champions. He has run his streak of consecutive major starts on PGA TOUR Champions to 61, which means he has competed in every once since turning 50 on Sept. 11, 2007.
So just what does it take to make 1,000 starts?
"I'd say there really are three factors," Sluman said. "First off, you have to be lucky enough to stay healthy, really never have a serious injury. Secondly, you have to play well enough to keep your card, and then you have to have the desire to keep playing. …
"It says you had a heckuva career. It shows you had longevity and you had a passion for the game. You have to want to play at this age to keep doing it, and I still do enjoy it."
Sluman still plays pretty well, too. He's 48th in the Schwab Cup standings and has posted five top 25s this season, including a best finish of T6 at the Mitsubishi Electric Classic in April.
The game has been very good to Sluman. It has allowed him to travel the world. He ranks in the top 100 in career earnings at more than $18 million. He remembers using his first big check in 1985 to buy a 944 Porsche.
He also came along at a time that allowed him to watch in person the tail end of the career of Jack Nicklaus and the beginning of the career of Tiger Woods, and to play with both.
"I was very fortunate to play with Jack," Sluman said. "The first time was 1989 at Doral. It was a somewhat sleepless night before.
"The interesting thing even as a professional golfer who has had a degree of success, the first time you play with Tiger or Jack you're thinking they're gonna be analyzing your game. Then you realize about four holes in they probably haven't seen a shot you hit. They're working on their own games the way they should be. They're not worried about what you're doing."
Sluman really never planned on a career in golf. But he qualified for the 1980 U.S. Open at famed Baltusrol Golf Club in Springfield, New Jersey, as an amateur shortly after graduation. He admits he was intimidated upon his arrival and figured his appearance of the major would be a "one and done."
But as he settled in, and as he watched his fellow competitors prepare he felt like he belonged.
"I looked at the guys on the range and said, 'I'm as good as these guys. I'm rough around the edges, I need to figure out some things about scoring and the short game.' But as far as physically hitting the ball and playing the course the way you're supposed to, I was a lot better than I thought I was," Sluman said. "I had no pedigree. I went to community college in Rochester, New York, then got a scholarship to Tennessee Tech then walked on at Florida State. I wasn't some kid who had the label of can't miss. A lot of people laughed when I turned pro and were like he can't beat anybody, and that may have been true. But I gave myself a chance to see if I could figure it out."
Forty years later no one is laughing. But after grinding for so long and taking on a full schedule every year, Sluman said he's finally ready to ease off the gas.
"I think next year is the year," Sluman said. "I've kind of said … I've been on full-go for 40 years. Next year I'm going to peel it back to 15-17 events instead of a full schedule and kind of enjoy it a little more."
| | | | |
| --- | --- | --- | --- |
| Player | PGA TOUR | PGA TOUR Champions | Total Starts |
| Miller Barber | 711 | 603 | 1314 |
| Dave Eichelberger | 784 | 476 | 1260 |
| Tom Kite | 714 | 425 | 1139 |
| Hale Irwin | 662 | 476 | 1138 |
| Dale Douglass | 531 | 600 | 1131 |
| Charles Coody | 629 | 481 | 1110 |
| Bob Gilder | 660 | 449 | 1109 |
| Jay Haas | 799 | 304 | 1103 |
| J.C. Snead | 632 | 465 | 1097 |
| Jim Colbert | 586 | 505 | 1091 |
| Doug Ford | 744 | 332 | 1076 |
| Bobby Wadkins | 715 | 349 | 1064 |
| Gay Brewer | 636 | 427 | 1063 |
| Chi Chi Rodriguez | 591 | 466 | 1057 |
| Leonard Thompson | 686 | 364 | 1050 |
| George Archer | 674 | 374 | 1048 |
| Gene Littler | 647 | 397 | 1044 |
| Tommy Aaron | 625 | 412 | 1037 |
| Dave Stockton | 599 | 436 | 1035 |
| Arnold Palmer | 703 | 319 | 1022 |
| Jeff Sluman | 700 | 299 | 999 |