Wife, back up putter keep Jay Haas playing
July 17, 2019
By Bob McClellan, PGATOUR.COM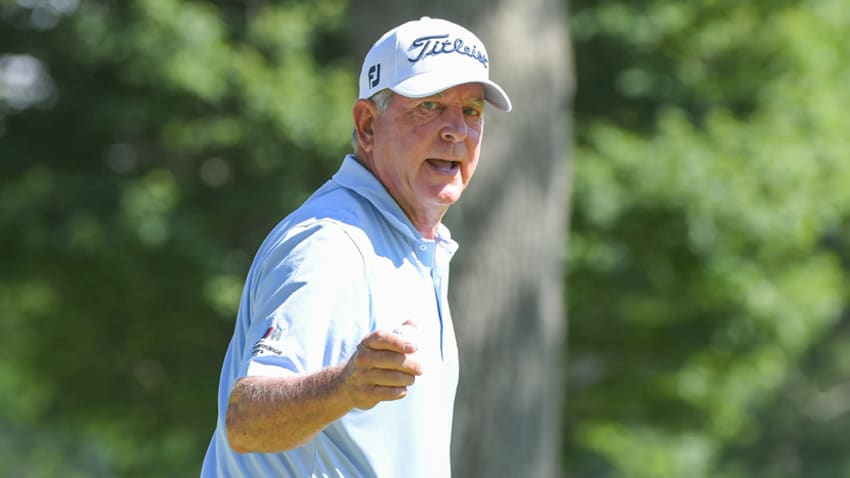 Jay Haas recently contemplated giving up the game for good. (Getty Images)
Everyone in golf owes a thank you to Janice Haas.
Her husband, Jay, was muddling through the first quarter of 2019. His play was uninspiring, and he admits he spoke to her about hanging up his spikes.
"I thought it was time to just say this is enough," Haas said Tuesday, just two days after a tie for second at the Bridgestone SENIOR PLAYERS Championship at Firestone Country Club in Akron, Ohio. "She said, 'You just made a top 36 or whatever, you can't quit.'
"Golf is a strange game. I've often said that. I probably played better two weeks ago at the U.S. Senior Open (than he did at the SENIOR PLAYERS). I made like 16 or 17 birdies, but I also made 16 or 17 bogeys. I was giving too many away. I didn't seem to do that as much last week."
No, he didn't. In fact when Haas, 65, finished his 72nd hole at 4 under, he was the leader in the clubhouse. As he came off the green, fellow players and tournament officials were telling him not to go anywhere. Retief Goosen and Tim Petrovic were both in trouble coming in.
Haas would have become the oldest player to win a PGA TOUR Champions event. He said he wasn't thinking about being the oldest anything. He was just thinking about winning again, something he has done 18 times on PGA TOUR Champions but not since the 2016 Toshiba Classic. In fact, his second-place finish at Firestone was his best since that victory.
Alas, Goosen rallied to birdie 17 and 18, leaving Haas to share second with Petrovic. It was the first win of Goosen's career on PGA TOUR Champions.
"The way it was laying out there … nobody was making a move," Haas said. "Retief didn't do it till the end. I thought 4 (under) might be a playoff and 5 was looking pretty good.
"I've seen the finish (at Firestone). And I've had some there myself that didn't go well. … But Retief played those last two holes beautifully."
Haas' game has come around, too. He was sitting in 59th place in the Schwab Cup standings before the U.S. Senior Open, and he revealed that on Monday of Open week, his longtime Scotty Cameron putter – the flat stick he called his "game" putter – was put on the disabled list.
"I brought two putters up there, very similar, kind of brothers, old style blade putters," Haas said. "My game putter that I won all 18 Champions Tour events and played on Ryder Cup and Presidents Cup teams … I wanted to bend it a little flatter, and it broke. Right in the neck. I sent it back to Scotty Cameron, and they're supposedly welding it and trying to fix it.
"I've probably bent that putter myself 500 times, giving it a little more loft, or a little less, or trying to make it more upright. I guess it was it's time to go."
Haas said he had never used the spare putter in competition. He estimated that he had had it for about 10 years, that someone at Scotty Cameron spotted it "in the rafters" and sent it to him because it looked like the one he was using.
"I used the spare and putted well at the Senior Open (Haas was 10th in the field with 16 birdies for the week). I hadn't thought much about it," Haas said. "It might be a hair heavier, and I'm comfortable with it now. I texted the guy that helped me bend it when it broke and said thanks again for working on my putter."
Yes, it was the backup that was in play for Haas' T17 at the U.S. Senior Open and his T2 at the SENIOR PLAYERS. Now he's 26th in the Schwab Cup standings and need only to maintain top 36 status to be eligible for all three events in the playoffs.
Haas will resume his season at the DICK'S Sporting Goods Open in Endicott, New York, from Aug. 16-18. That means he'll be skipping The Senior Open Championship presented by Rolex, but he hasn't played there since 2012. He also said that after DICK'S he'd be skipping the Boeing Classic outside Seattle, where he said he never has had any luck, and the Shaw Charity Classic in Calgary because Janice is scheduled to have knee replacement surgery that week.
So Haas should be well rested for the stretch run. And it's golf, and anything can happen.
"I'd say right now I'm playing with a tremendous amount of confidence."