Zalatoris built for sustained success in professional golf
September 14, 2020
By Adam Stanley, PGATOUR.COM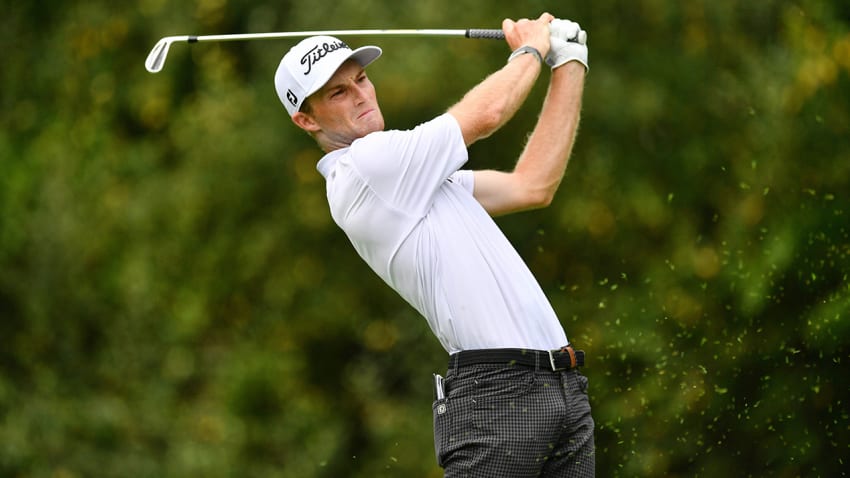 Wake Forest alum Will Zalatoris enters the U.S. Open on the strength of 11 consecutive top-20 finishes. (Jamie Sabau/Getty Images)
At Maridoe Golf Club, about 30 minutes from Dallas, there's a certain group of touring pros – and one ex-NFL star – that could likely draw broadcast fees if their matches were televised.
The games, of Wolf mostly, would consist of 2019 Korn Ferry Tour Player of the Year Scottie Scheffler, multi-time PGA TOUR winner Ryan Palmer, NFL quarterback-turned-whiz TV analyst Tony Romo, multi-time major champion and former FedExCup winner Jordan Spieth, and … Will Zalatoris.
Zalatoris, who sits atop the 2020-21 Korn Ferry Tour Points List – with one win and, as of the Evans Scholars Invitational, 11-straight top-20 finishes, a Korn Ferry Tour record – never backed down in those situations, just like he hasn't been backing down from any and all challengers on Tour this season.
"It's one of those games where you can't hide," said Zalatoris, a stick-thin 6-foot-2, 24-year-old who was awarded the Arnold Palmer Scholarship to attend Wake Forest University.
"Those games are pretty nasty. Pars aren't your friend. You play some games against each other and with each other – which I enjoy a hell of a lot more."
Although Zalatoris' resume might be a little light as compared to the TOUR-topping men of Maridoe, if they were smart, they'd want to be paired with him – not the other way around.
With the U.S. Open this week at Winged Foot, Zalatoris isn't just leading the Korn Ferry Tour charge as one of the 10 players who earned exemptions into the first major of the season. He could be considered a sneaky threat to win the whole thing.
"I've always said a U.S. Open setup probably fits me the best. It's an exciting opportunity and I've got nothing to lose," said Zalatoris. "Give me a late Saturday or Sunday tee time … I'd just love to be in that position."
After one of the most consistent seasons in Korn Ferry Tour history – which is only about 60 percent complete – Zalatoris is prepped and primed to test his mettle against the best in the world on one of the biggest stages in the sport.
Quiet but self-assured, a tenacious front-runner, and an undeniable star-in-waiting – this is Will Zalatoris.
One step closer to reaching his goal of getting to the @PGATOUR as quickly as possible.

Congrats to this year's @TPC_ColoradoHL champion @WillZalatoris! pic.twitter.com/vlxPEhNt0T

— Korn Ferry Tour (@KornFerryTour) July 4, 2020
"HE WALKS WITH THAT, 'I'M SUPPOSED TO BE HERE, I'M SUPPOSED TO BEAT YOU' MENTALITY" – Jordan Spieth
Jordan Spieth knows what it takes to be, and beat, the best in the world.
A wunderkind himself, the Texan blew out of the gates as a multi-time winner on TOUR and a major champion – and threat to win the career Grand Slam – before many in golf could figure out if the 'i' came before the 'e' in his last name.
And Spieth has been watching Will Zalatoris since they were kids. He knows special when he sees it.
"He's always been a good player, and a really good ball-striker," said Spieth. "We've been playing quite a bit over the last couple of years and the progression of his game … he'll just be able to contend everywhere."
Spieth and Zalatoris first crossed paths in Texas when Zalatoris was 12. Spieth is three years Zalatoris' senior, but they contended at various local events around the same time before Spieth went to the University of Texas.
"The No. 1 thing you see in Will is that he's not afraid to go low," said Spieth. "A lot of guys will take it to 3, 4-under, and make mistakes. Will just looks at it as a chance to get to 6, 7, or 8-under par."
When Zalatoris was at Wake Forest, he said, his whole team was practicing together in April 2015 when Spieth won the Masters – tying the 72-hole scoring record set by Tiger Woods and in the process becoming the second-youngest player to don the Green Jacket.
The practice ended pretty quickly when they saw the special run Spieth went on that Sunday.
"We were just sitting there. It was amazing," said Zalatoris of his longtime Texas playing competitor-turned major champion.
"I saw Jordan in high school gain a bunch of weight working out and Scottie (Scheffler), and I owe (Spieth) a lot because we saw him dominate at the junior level after that. The next thing you know, my freshman year of college, he won the Masters."
"One step closer to getting our card. Two more to go." @willzalatoris ✌️ pic.twitter.com/O8lRxwsm5s

— Korn Ferry Tour (@KornFerryTour) July 4, 2020
Indeed, Spieth said he bared witness to Zalatoris struggling through the impact of a funky growth spurt that saw him go from 5-foot-4, 140 pounds to 6-foot-1, 145 pounds in less than a year and a half. Zalatoris said he had been playing solid golf as a junior to that point, but between his sophomore and junior year of high school it was like his body was playing tricks on him. He felt like his body was all growing at different speeds.
During that time, he still was contacted by Wake Forest and offered the Arnold Palmer Scholarship. That vote of confidence was all he needed.
"When I was growing a ton and my game was going sideways, (longtime Wake Forest coach) Jerry Haas comes up to me and offers me the Arnold Palmer Scholarship and … how could I not take it? Someone believes in you," said Zalatoris. "I made the most of (Haas) taking a chance on me."
Spieth, after Zalatoris' summer-of-growth, saw his fellow Texan have the ability to "bomb it" around. His world-class ball striking was now combined with a healthy distance off the tee. Even then, and even through all those changes, Spieth said Zalatoris carried himself with a clear sense of self-belief.
"He's always been a pretty cocky player and I mean that in the best way possible," said Spieth. "You have to have that on the golf course."
And as far as the future is concerned, from one young star to another, Spieth doesn't think it's going to take too long for Zalatoris to have an impact on TOUR.
Would Spieth be surprised if Zalatoris won a PGA TOUR event quickly?
"I don't think it would surprise me at all," said Spieth. "You wonder how long it will take (Korn Ferry Tour players) to have success and then, boom, they win that week."
.@willzalatoris called his shot this morning. 😎 pic.twitter.com/8O6uZOiONr

— Korn Ferry Tour (@KornFerryTour) July 4, 2020
---
"IF YOU HAD A DAUGHTER, YOU'D WANT YOUR DAUGHTER TO DATE HIM" – Coach Josh Gregory
Josh Gregory, a performance golf coach based out of Maridoe where Troy Denton is the head golf professional, has seen Zalatoris thrive this season on the Korn Ferry Tour – and he's not surprised.
Gregory, who works with seven Korn Ferry Tour pros and four on the PGA TOUR, has been with Zalatoris for about a year and a half. At the onset, Zalatoris was just trying to earn status, anywhere. His goal, Gregory said, was to get to the PGA TOUR as fast as possible, but he was struggling with his putting.
"He was a perfect candidate for what I do," said Gregory, who specializes in short-game efforts. "It's how to practice. It's consistency and work ethic – games and drills. It involves a plan like a syllabus in college. That's perfect for his nature. He's extremely structured in everything he does. That's where the immediate connection was. Most importantly … he always worked hard. He just needed a bit more consistency for how to go about things each day.
"Candidly, of all my TOUR guys, there is nobody that's stuck to the plan better than he has."
Gregory echoes what Spieth said about Zalatoris' cockiness, but said Zalatoris' rough time in high school has shaped who he is now. His game is more complete, Gregory said.
"He might be the best ball striker out there," he said of Zalatoris, who sits tops on Tour in greens in regulation and ball striking, and second in All-Around Ranking.
"If he was on the PGA TOUR right now, he'd be a top-50 player in the world with his consistency and with how he's played."
Zalatoris said the routine he's been trying to install, with Gregory's help, has been the key to his success this year.
He knows more about his game these days, and can read different on-course situations because of it. The scary thing – to a fellow Korn Ferry Tour competitor – is that Zalatoris said it's not just one aspect that's gotten better in 2020. It's everything.
"I'd love to pin it on one thing, but everything has just been a little bit better," Zalatoris said, heaping praise on Gregory's program and the effort of Denton as well. "It's about a routine. Add in some good work ethic and how could you not get better?"
Roommates @DavisRiley68 and @WillZalatoris now stand atop The 25.

What a world. 🌏

1. Riley
2. Zalatoris
3. Pendrith
4. Pereira
5. Barjon#KornFerryTour pic.twitter.com/e2NhVv30dT

— Korn Ferry Tour (@KornFerryTour) July 18, 2020
"ONCE YOU'RE THAT GOOD, THERE ARE VERY FEW WEAKNESSES" – DAVIS RILEY
Watch out, world. Davis Riley knows this intimately.
In the running for Player of the Year alongside Zalatoris, it seems as though these two are going to be forever linked as part of the 2020-21 Korn Ferry Tour season – and not just because they're roommates, to boot.
Riley, a star at the University of Alabama and a two-time winner on the Korn Ferry Tour this season, is second to Zalatoris on the season-long Points List. He'll usually play with Zalatoris in Texas – something they did a ton of during the COVID-19 break.
"He does a lot of things really well, but I just think he plays the game so well. He hits all these shots and plays pretty fearless. He just plays the game really well. It's really impressive," said Riley.
"He works hard and he's earned it."
Riley said Zalatoris' consistency has impressed him the most in 2020.
Last season, Zalatoris was cobbling together a schedule and was finding it difficult to get into a rhythm, via Monday qualifiers and the like. This year, he's not yet missed a cut on the Korn Ferry Tour and has 14 top-25s in 16 events – with 10 of those being top-10 finishes.
"You think eventually you'd have a week just catch up to you, but the consistency of his season and how many times he's been up there has been impressive," said Riley.
Will Zalatoris defeated Davis Riley, 5 and 3, in the 2014 U.S. Junior championship match. (Courtesy of Davis Riley/Will Zalatoris)
The pair are fairly competitive at home – Riley said he's been motivated by Zalatoris' play all season, and it's beneficial to be trailing just your roommate on the season-long Points List – but in the best way possible.
If Zalatoris is going to head to the gym for 7 a.m., Riley may go at 6:30 or vice versa. Riley said he thinks the pair were sharper than some others when the Korn Ferry Tour returned to action because they were playing so frequently at home in high-level competitions.
"I can't think of anyone more deserving," said Riley. "He's earned this."
Zalatoris said his support system, which intimately includes Riley, his girlfriend Caitlin, his family, and now Gregory and Denton alongside a decent handful of TOUR stars, has always been there.
He's been inspired, of course, by the success of Scheffler and Spieth and fellow Walker Cup team members Cameron Champ and Collin Morikawa ("You see the success coming soon and it's not a matter of if, but when, and when it does happen you think, 'Oh my God this is incredible,'" he said of Morikawa's PGA Championship triumph), but nobody, despite the growth spurt and the struggles and the year full of more questions than answers, wavered in their confidence in him.
No one said, 'Hey, you probably can't do this.'
"If anything, I'm my worst critic," said Zalatoris. "When you turn pro and you're doing Monday qualifiers and had a bunch of starts and I wasn't getting into anything … it's hard. You have to persevere. It's a tough sport in the sense of: no one is given their way to the top. It's always earned."
Count this year's success for Will Zalatoris as something earned – very much so.